Xhair Pro 2.3 by Heroji
will be updated to bring new XHair hack.lol.
heroji added a shortcut as i said and made it simple to use.
Xtrap work with and you will not ban and no lag!
Shortcut:
Spring Mouse to display / modify target (only rotate molinha).
Shift +1 to display / close target load.
How to use:
Run it.
Check the configuration file, clicking on the "Settings" menu.
PHP Code:
[Configuration]
Fps Game
=crossfire.exe
[Game Resolution]
Width
=1280
Height
=800
[Load Xhair]
Crosshair Path
= C:.....Xhair Pro v2.3Loadexample.png
Download:
[You must be registered and logged in to see this link.]
Crosshairs: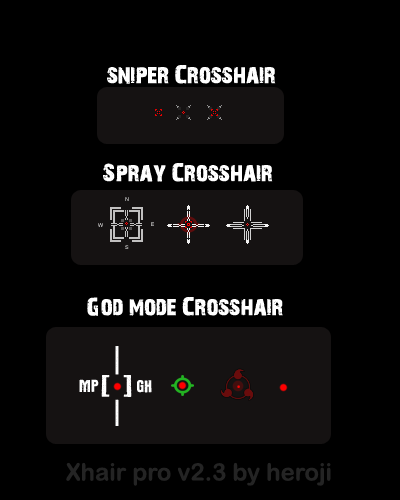 Tutorial Video[Video made by CheatCreatorz, Lil Thanks

]
[You must be registered and logged in to see this link.]